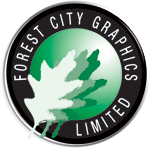 Welcome to the Home of Forest City Graphics Limited.
Forest City Graphics has been supplying premium quality printing in North America for over 35 years. Forest City Graphics is a privately owned and operated Canadian corporation with facilities located in London and Toronto, Ontario, Canada giving us the ability to ship conveniently across Canada and the United States.
Forest City Graphics is your premier printing and packing manufacture for all your printing requirements and we would be more than happy to take responsibility for your printing, advertising and packaging programs. Our highly talented group of individuals deliver the expertise for all aspects of the printing and packaging process. Let Forest City Graphics take the headaches out of your next print and promotion program.
We supply fortune 500 companies, publishers, designers, packaging companies and media groups with all their printing requirements. If you require corporate printing, book publishing, posters, calendars, greeting cards, display packaging, food grade packaging or any other printing application, we are your source.
Forest City Graphics digital division offers small run promotion material, POP displays, banners and business cards. We also offer a wide range of digital media products from digital media books, promotional material, POP displays, LCD signage, and web page site building.
Thank you for visiting our site.